Browning Trail Cameras Help Ohio Hunter Bag Giant Buck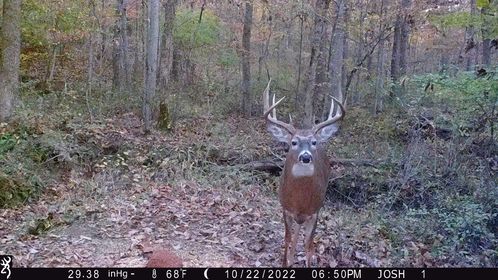 Browning Trail Cameras customer, Josh Keiter from Ohio, has had his eye on a great buck the past few years. Using his trail camera data, he formulated a plan and was finally able to seal the deal on an Ohio giant last week! Check out his success story below!
"I just wanted to share a success story on a great Ohio buck. I've watched this buck grow up from the time he was 2.5 years old. My Browning Trail Cameras worked flawlessly during these past few years, keeping tabs on the buck as he grew and matured.
Everything came together this year and I decided it was time to go in and setup for the kill. Using the trail camera data, I formulated a plan. I figured out where he lived, spent his daylight hours and the doe groups he harassed during the rut. I shot him on Nov 12 at 11:30am and just wanted to say 'Thanks' for making such a dependable camera that helped me pattern my biggest buck to date!"